From Vitruvio to ArchaeoBIM. BIM reconstruction of the archaeological context of Massaciuccoli (LU)
In the debate on the search for new archaeological methodologies, the use of BIM (Building Information Modelling) has begun to develop over the last decade. This technique, derived from disciplines such as architecture and civil engineering, involves the creation of 3D models of architectural objects correlated with a series of databases, allowing the simultaneous management of a large amount of heterogeneous data.
Research objective: Creation of a BIM (or ArchaeoBIM) methodology that can be replicated within any archaeological context containing masonry structures both without elevation and conserved in elevation. For these peculiarities, the project decided to use the Roman structures of the Massaciuccoli Romana archaeological area (Massarosa – LU) as a case study.
In order to create the basis on which to construct the BIM model, photogrammetric surveys of the buildings will be carried out, followed by a study of the walls and an analysis of the documentary sources. The data collected will be entered into a standardised series of databases linked to each architectural element.
This new digital process will make it possible to store, manage and organise all the data collected over a century of research in the area. The information will then be contained in three-dimensional parametric objects that will perfectly simulate the physical characteristics of each architectural element, thus enabling the development of a reconstructive model showing how these monuments must have looked in ancient times.
These representations may also be the first example of BIM applications to the Vitruvian canons of Roman baths and rustic villas.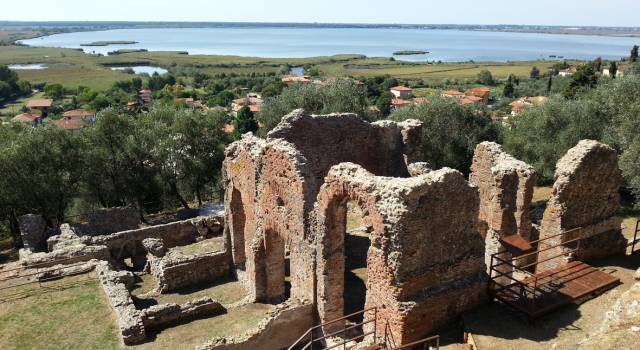 Click on the link to see the 3D model.
Terme di Massaciuccoli
Edificio con mosaico
(All the image of 3D model was on concession by Ministero della Cultura – Soprintendenza Archeologia, Belle Arti e Paesaggio per le province di Lucca e Massa Carrara, reproduction prohibited.)
Updating – December 2022
During the development of the project, it was decided to try to find open source solutions to the BIM reconstruction of the Massaciuccoli archaeological context. The choice fell on the Extended Matrix framework, a plugin of the open source software Blender. This solution makes it possible to obtain a virtual reconstruction based on a Harris matrix, also having the potential to import a database, linking it to each three-dimensional element, containing information regarding the masonry present in the building under investigation.
The project will continue by developing the two methodologies in parallel, the open source part on the villa rustica and the proprietary part on the thermal complex of the villa dei Venuleii, in order to analyse their strengths and weaknesses.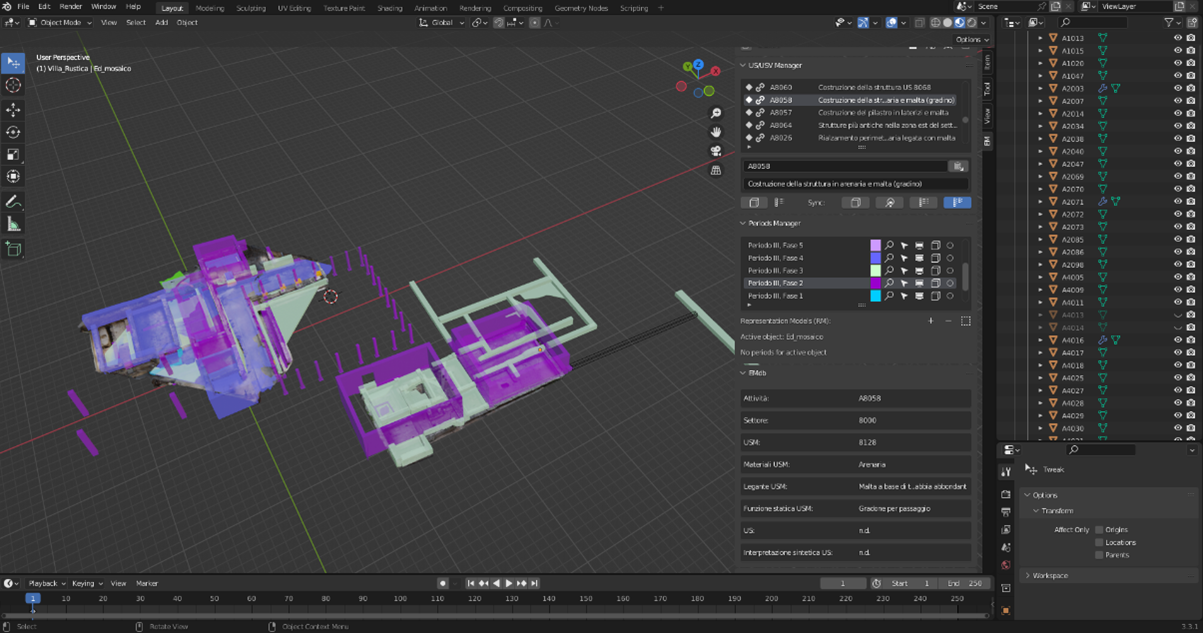 Progetto a cura di:
Filippo Sala filippo.sala@phd.unipi.it