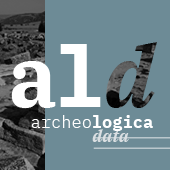 ArcheoLogica Data is an annual Open Access (OA) journal that publishes original contributions in the form of a dataset accompanied by an article. The archaeological data, associated with a DOI
(Digital Object Identifier)
, will be published in the Open Data MOD archive
(Mappa Open Data)
provided by the journal, in order to be accessible and reusable by the whole scientific community.
The journal aims to contribute to the sharing of "raw archaeological data" (data from any type of archaeological investigation – excavation, survey, remote sensing, geognostic investigation, archaeometric analysis, the study of materials, etc…), supporting collaborative science, without chronological or territorial limitations.
Co-Editors
Francesca Anichini
Gabriele Gattiglia
Maria Letizia Gualandi
Editorial Board
Salvatore Basile
Antonio Campus
Claudia Sciuto
Scientific Advisory Board
Valeria Boi

– Istituto Centrale per l'Archeologia, Ministero per i beni e le attività culturali e per il turismo (Italy)

Philip Buckland

– MAL- Environmental Archaeology Laboratory, University of Umea (Sweden)

Stefano Campana

– Dipartimento di Scienze Storiche e dei Beni Culturali, Università di Siena (Italy)

Francesco Carrer

– School of History, Classics and Archaeology, University of Newcastle (UK)

Carlo Citter

– Dipartimento di Scienze Storiche e dei Beni Culturali, Università di Siena (Italy)

Elisa Corrò

– Venice Centre for Digital and Public Humanities, Ca' Foscari University of Venice (Italy)

Nicolò Dell'Unto

– Department of Archaeology and Ancient history, University of Lund (Sweden)

Beatrice Demarchi

– Dipartimento di Scienze della Vita e Biologia dei Sistemi, Università di Torino (Italy)

Anna Foka

– Department of archives, museums and libraries, University of Uppsala (Sweden)

Francesca Grassi

– Dipartimento di Scienze Storiche e dei Beni Culturali, Università di Siena (Italy)

Matteo Lorenzini

– Institute for the History and Theory of Architecture, ETH Zürich (Switzerland)

Vera Moitinho de Almeida

– INESCC-Institute for Systems Engineering and Computers at Coimbra, University of Coimbra (Portugal)

Marco Nebbia

– Institute of Archaeology, University College London (UK)

Hector Orengo

– Catalan Institute of Classical Archaeology (Spain)

Augusto Palombini

– CNR- ITABC (Italy)

Herman Salvadori

– Independent researcher (Italy)

Elisabetta Starnini

– Dipartimento di Civiltà e Forme del Sapere, Università di Pisa (Italy)

Holly Wright

– Department of Archaeology, University of York (UK)

Chiara Zuanni

– Austrian centre for digital humanities, University of Graz (Austria)
Publisher: All'Insegna del Giglio https://www.insegnadelgiglio.it/2021/06/ald-peer-reviewed-and-open-access-annual-journal/

For more information about the call visit the page dedicated to it.