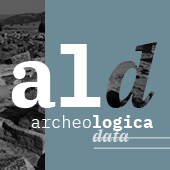 ArcheoLogica Data è una rivista annuale Open Access (OA) che pubblica gratuitamente contributi originali, 
sottoposti a Peer Review, nella forma di un dataset corredato da un articolo.
 I dati archeologici, associati a un DOI
(Digital Object Identifier)
, saranno pubblicati nell'archivio Open Data MOD
(Mappa Open Data)
 assegnato dalla rivista
,
così da essere accessibili e riutilizzabili da tutta la comunità scientifica. 
La rivista offre a ricercatori e professionisti la possibilità di pubblicare articoli Open Access con l'obiettivo di contribuire alla condivisione dei "raw data" provenienti da qualsiasi tipo di indagine archeologica – scavo, survey, remote sensing, indagini geognostiche, analisi archeometriche, studio di materiali, ecc… – e di sostenere la scienza collaborativa, senza limitazioni cronologiche o territoriali.
Co-Editors
Francesca Anichini
Gabriele Gattiglia
Maria Letizia Gualandi
Comitato editoriale
Salvatore Basile
Antonio Campus
Claudia Sciuto
Filippo Sala
Chiara Giovannetti
Comitato scientifico
Valeria Boi

– Istituto Centrale per l'Archeologia, Ministero per i beni e le attività culturali e per il turismo (Italy)

Philip Buckland

– MAL- Environmental Archaeology Laboratory, University of Umea (Sweden)

Stefano Campana

– Dipartimento di Scienze Storiche e dei Beni Culturali, Università di Siena (Italy)

Francesco Carrer

– School of History, Classics and Archaeology, University of Newcastle (UK)

Carlo Citter

– Dipartimento di Scienze Storiche e dei Beni Culturali, Università di Siena (Italy)

Elisa Corrò

– Venice Centre for Digital and Public Humanities, Ca' Foscari University of Venice (Italy)

Nicolò Dell'Unto

– Department of Archaeology and Ancient history, University of Lund (Sweden)

Beatrice Demarchi

– Dipartimento di Scienze della Vita e Biologia dei Sistemi, Università di Torino (Italy)

Anna Foka

– Department of archives, museums and libraries, University of Uppsala (Sweden)

Francesca Grassi

– Dipartimento di Scienze Storiche e dei Beni Culturali, Università di Siena (Italy)

Matteo Lorenzini

– Institute for the History and Theory of Architecture, ETH Zürich (Switzerland)

Vera Moitinho de Almeida

– INESCC-Institute for Systems Engineering and Computers at Coimbra, University of Coimbra (Portugal)

Marco Nebbia

– Institute of Archaeology, University College London (UK)

Hector Orengo

– Catalan Institute of Classical Archaeology (Spain)

Augusto Palombini

– CNR- ITABC (Italy)

Herman Salvadori

– Independent researcher (Italy)

Anna Maria Stagno – 

Dipartimento di antichità, filosofia e storia

, Università di Genova (Italy)

Elisabetta Starnini

– Dipartimento di Civiltà e Forme del Sapere, Università di Pisa (Italy)

Holly Wright

– Department of Archaeology, University of York (UK)

Chiara Zuanni

– Austrian centre for digital humanities, University of Graz (Austria)
Publisher: All'Insegna del Giglio https://www.insegnadelgiglio.it/categoria-prodotto/periodici/archeologica-data/
Per informazioni sulla call 2023 visita la pagina dedicata.